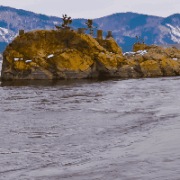 Simulates a continuous flow on the image in-place. The section that this effect is applied to will be repeated on a small scale.

Textures
Flow map: Determines which places the effect will be applied to and in which direction.
Flow phase: Offsets the point in time that the loop of the effect occurs, to make the transition more natural.
Parameters
Phase scale: The detail scale of the phase texture.
Speed: The speed of the flow animation.
Strength: The maximum distance that the effect will cover.